Medium:
General
Subject:
Confidence for women
Title:
Indeed a Queen
Warnings:
Innuendo & language (R)
Notes:
I thought I'd make a mix for those women like me who need a kick in the butt to keep their heads high and their eyes steady.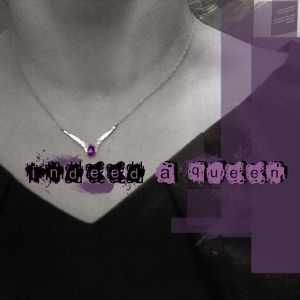 Indeed a Queen
--A confidence fanmix for women--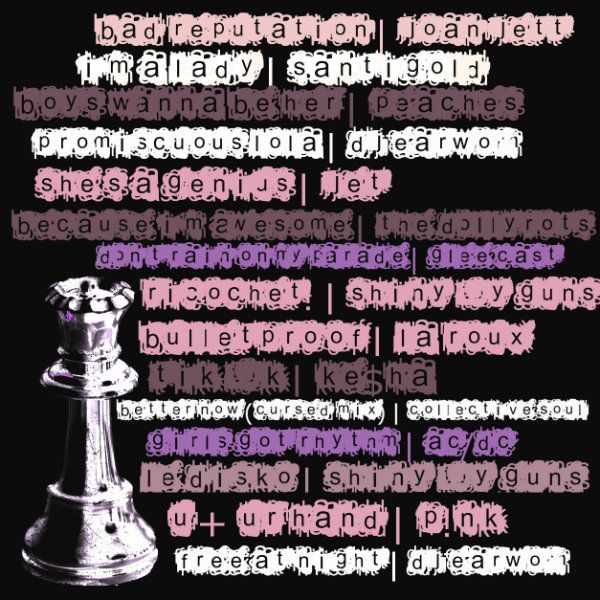 Tracklisting
bad reputation | joan jett
i don't give a damn 'bout my reputation
you're living in the past, it's a new generation
a girl can do what she wants to do and that's what i'm gonna do
i'm a lady | santigold
i know what's been mad, you really don't
try to hold a light to me, i'm a lady
got my mind made up
got my mind made up
boys wanna be her | peaches
girl, you got the chops
flip flop
she bop
self-taught
promiscuous lola (sara vaughan vs. nelly furtado ft. timbaland) | dj earworm
don't you know, you can't win
you're no exception to the rule
i'm irresistible you fool
she's a genius | jet
that girl's a genius
whoa oh oh oh oh oh oh
i think she's serious
whoa oh oh oh oh oh oh
because i'm awesome | the dollyrots
i'm a leader, i'm a winner, and i'm cleaner
cause i'm awesome
i don't need you cause i'm neato and i beat you
Cause i'm awesome
that's right
don't rain on my parade | glee cast
don't tell me not to fly--
i've simply got to.
if someone takes a spill,
it's me and not you.
ricochet | shiny toy guns
i hit the bullseye
making all the boys cry
i hit the main line
breaking through the night sky
bulletproof | la roux
been there, done that messed around
i'm having fun, don't put me down
i'll never let you sweep me off my feet
tik tok | ke$ha
now, the party don't start 'til i walk in
don't stop, make it pop
dj, blow my speakers up
tonight, i'ma fight
'til we see the sunlight
better now (cursed mix) | collective soul
let the word out i've got to get out
oh i'm feeling better now
break the news out i've got to get out
oh i'm feeling better now
girls got rhythm | ac/dc
she's stealin' the spotlight
knocks me off my feet
she's enough to start a landslide
just a walkin' down the street
le disko | shiny toy guns
hello little boys, little toys
we're the dreams you'll believe in
crawling up the walls
running down your face
u + ur hand | p!nk
check it out, goin' out on the late night
lookin' tight, feelin' nice, it's a cock fight
i can tell, i just know that it's goin' down tonight
free at night | dj earworm
she's a maneater, she's a promiscuous girl
she's free, she's free
she's a maneater
she's free, free, free, free
[Comments are love]
Current Mood:

accomplished